• Festive Promotional Products • Promotional Gifts • Promotional Products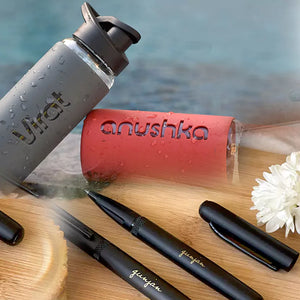 The holiday season is a time of giving, and what better way to show your appreciation to employees and clients than with memorable and innovative promotional gifts? Festive promotional products not only strengthen business relationships but also express your gratitude uniquely and thoughtfully. Here, we've handpicked 10 perfect festive promotional products that will delight your recipients and make your brand stand out. 1. Initiator Copper Jar Candle: Igniting Warmth and Gratitude Introducing our exclusive Copper box gift set, a delightful combination of sensory experiences. Initiator Copper Jar Candle is made of copper that casts a warm and inviting glow when lit. Adding a touch of...
---
• corporate Diwali gift hampers • Diwali gift hampers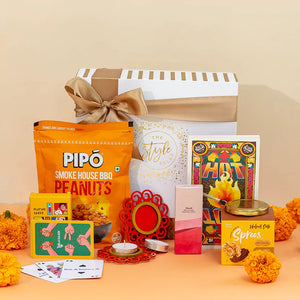 Diwali, the festival of lights, is a time of joy, unity, and gifting. It's a moment to express gratitude and strengthen bonds with those who matter most. When it comes to corporate Diwali gift hampers, The Style Salad offers a range that goes beyond expectations. Let's dive into the art of gifting and discover why these hampers are the perfect choice for this Diwali season. Blue Bijoux: The Festival Delight 'Blue Bijoux,' a Diwali delight that combines tradition and elegance. This curated collection features Aam Papad Bites for a sweet start, two handcrafted Blue Pottery Diyas for a touch of artistry, and...
---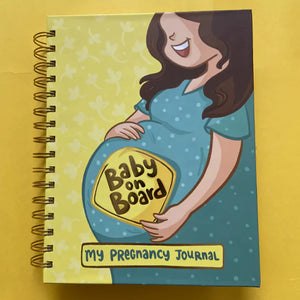 Pregnancy is a beautiful journey filled with emotions, anticipation, and the promise of new beginnings. Capturing this remarkable time in a meaningful way can be an incredible experience for both parents. Enter "The Style Salad's Pregnancy Journals" - a unique set of journals that cater to the needs of both expectant moms and dads. When to Gift "The Style Salad's Pregnancy Journals":  Choosing the perfect time to gift these journals is crucial. While there's no one-size-fits-all answer, there are some ideal moments during the pregnancy journey to consider: Announcement: The moment you find out you're expecting is magical. Presenting these...
---
Introduction Diwali, the festival of lights, is just around the corner, and it's time to infuse the season with warmth, love, and thoughtful gestures. One way to make this festive occasion truly special is by giving personalized Diwali gifts that not only reflect your affection but also add a touch of sentiment to the celebration. Enter "The Style Salad," your one-stop destination for unique gifting items that will elevate your Diwali gifting game. Personalized Diwali Gifts: A Dash of Thoughtfulness In a world filled with generic presents, personalized Diwali gifts stand out as tokens of love and appreciation. "The Style Salad" offers a range...
---
• Raksha bandhan Gifting Guide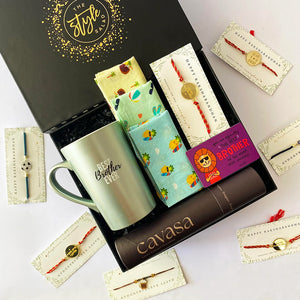 Raksha Bandhan, the sacred festival that tightens the sibling bond, is not just about tying the rakhi. It's a time for enchanting gifting that goes beyond material presents. The act of gifting during Raksha Bandhan is like weaving magical threads of love and emotions, creating lasting memories and strengthening the cherished connection between siblings. Let's dive into the captivating significance of this heartwarming tradition of gifting during Raksha Bandhan. Expressing Unconditional Love: Raksha Bandhan gifting enables siblings to express unconditional love tangibly, beyond everyday words and actions. Symbol of Protection and Security: Rakhi tying symbolizes a sister's love and care, while the...