News — Raksha bandhan Gifting Guide
• Raksha bandhan Gifting Guide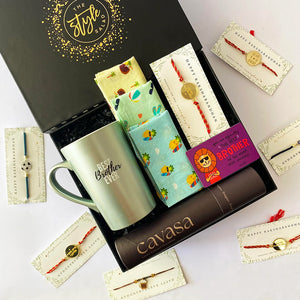 Raksha Bandhan, the sacred festival that tightens the sibling bond, is not just about tying the rakhi. It's a time for enchanting gifting that goes beyond material presents. The act of gifting during Raksha Bandhan is like weaving magical threads of love and emotions, creating lasting memories and strengthening the cherished connection between siblings. Let's dive into the captivating significance of this heartwarming tradition of gifting during Raksha Bandhan. Expressing Unconditional Love: Raksha Bandhan gifting enables siblings to express unconditional love tangibly, beyond everyday words and actions. Symbol of Protection and Security: Rakhi tying symbolizes a sister's love and care, while the...
---
• Raksha bandhan Gifting Guide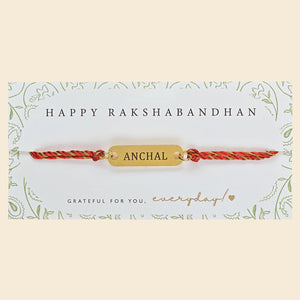 "A Celestial Symphony of Love: Embracing Eternal Siblinghood through Whispers of Rakhi"   As the gentle breeze whispers ancient tales of love and protection, the sacred thread of Rakshabandhan weaves bonds of siblinghood, transcending time and space. In this celestial symphony, where threads intertwine, let us embark on a celestial journey of eternal devotion and unbreakable ties.    The Thread of Divinity: Exploring the Mythical Tapestry of Rakhi Designs  Om Padma Rakhi: This sacred Rakhi adorned with the Om symbol nurtures a bond that goes beyond the ordinary, invoking divine blessings and spiritual harmony. Make sure to buy Rakhi online to dig a...
---
• Raksha bandhan Gifting Guide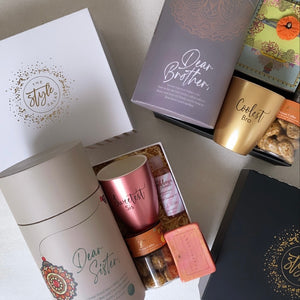 It's that time of the year again!  It is that time of the year when every big and small shop has colourful threads dangling on display, waiting to be purchased. Knowing that in essence, they symbolize an emotion that is sacred and irreplaceable.  Okay, sorry, no more word play! But we know that you obviously guessed it by now.  It is Raksha Bandhan!  Celebrated on the full-moon day of the Hindu month of Sravana (July/August), this festival celebrates the love of a brother for his sister. On this day, sisters tie rakhi on the wrists of their brothers to protect...
---
• Raksha bandhan Gifting Guide
Always at loggerheads but you know you've got each other's backs until the very end! What other relationship can it be, than the one with your beloved sibling of course! The Brother-Sister bond is very unique. It is full of love, care, hatred,excitement, sharing and a lot much that is hard to find in any other relationship. With Rakshabandhan around the corner, we are here to ensure that this Rakhi is truly a memorable one with the perfect gifting guide, that's sure to have them jumping with joy! Gifts for BrotherStyle your brother this Rakshabandhan with an exclusive collection of...