The holiday season is a time of giving, and what better way to show your appreciation to employees and clients than with memorable and innovative promotional gifts? Festive promotional products not only strengthen business relationships but also express your gratitude uniquely and thoughtfully. Here, we've handpicked 10 perfect festive promotional products that will delight your recipients and make your brand stand out.
1. Initiator Copper Jar Candle: Igniting Warmth and Gratitude
Introducing our exclusive Copper box gift set, a delightful combination of sensory experiences. Initiator Copper Jar Candle is made of copper that casts a warm and inviting glow when lit. Adding a touch of ambiance and warmth to your festive environment. A selection of Caramel Toffees and Orange Ginger Laddoos for sweet indulgence, and the unique Masala Peanut Flavoured Chocolate Pebbles for a spicy chocolate twist. To complement the assortment, we've included Karanj Honey, a light amber nectar with a subtle floral aroma that transports you to a garden stroll. Unveil the essence of Copper box, where taste and fragrance harmonize.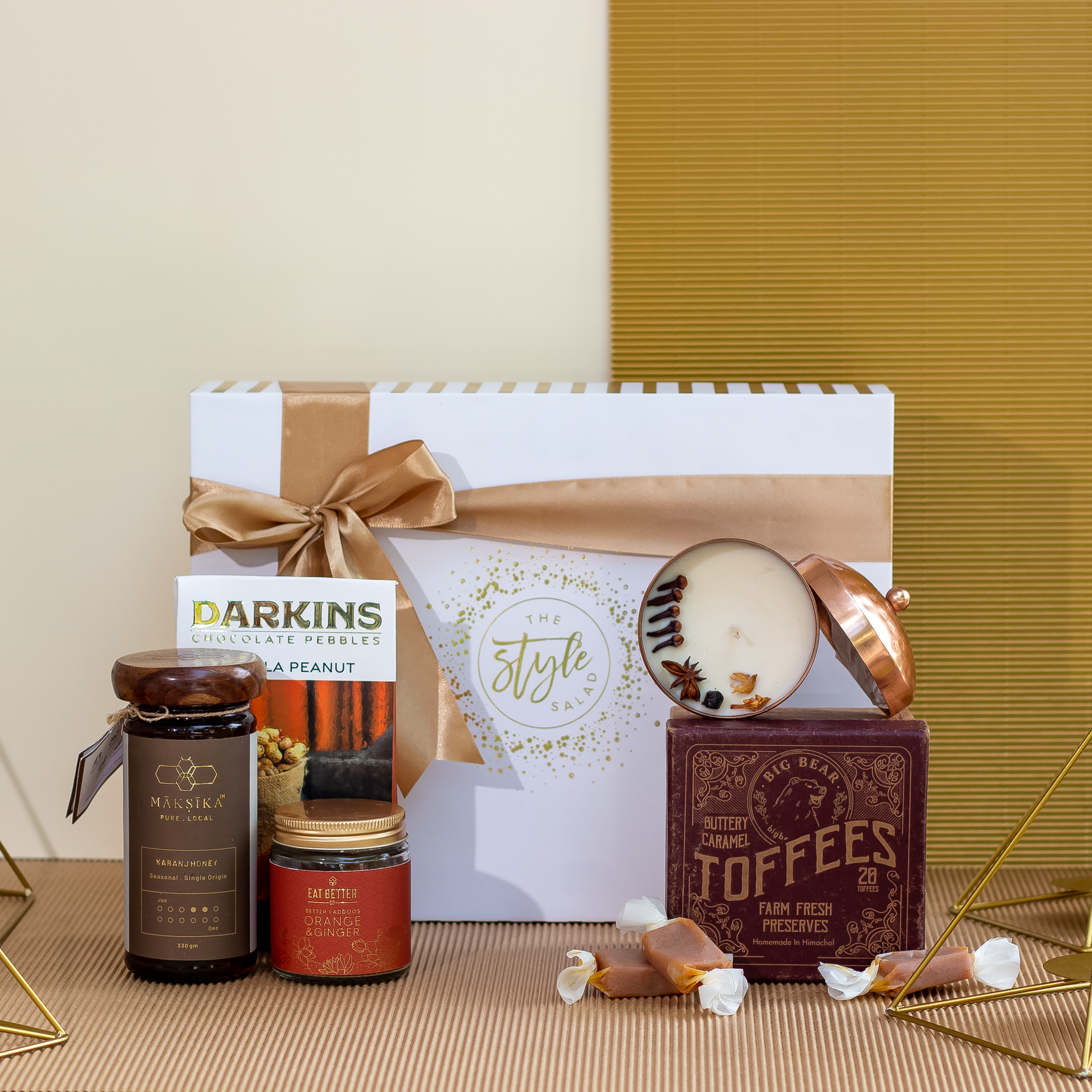 2. Matt Black Personalized Pens - Blue Ink: Write Your Success Story
Put your brand in the hands of your clients and employees with the sleek and personalized Matt Black Pens. These pens are not just for writing; they are a symbol of your commitment to excellence and thoughtfulness.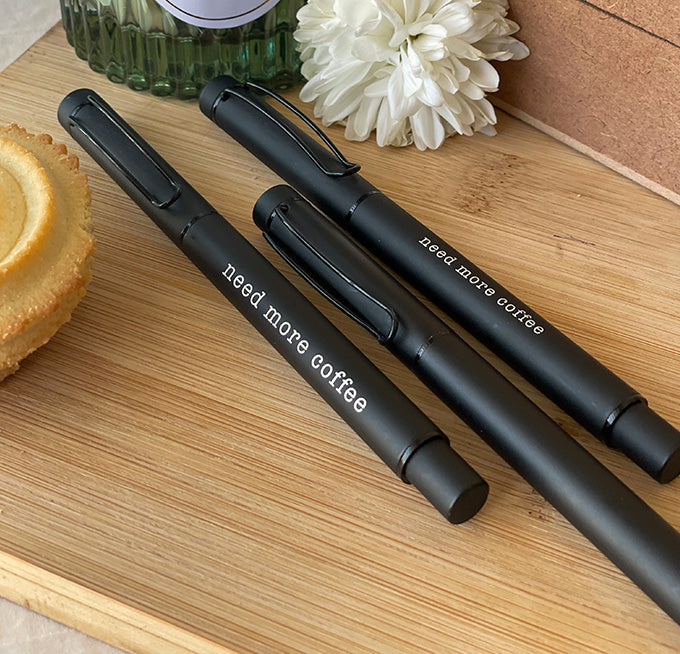 3. Spiral Book Personalized: A Canvas for Creativity
The Spiral Book is more than just a notebook; it's a canvas for creativity. With 50 rules and 50 blank pages, it's a versatile space for ideas and thoughts to flourish. The gold font adds a touch of luxury to the writing experience, mirroring the value you place on the thoughts and ideas of your recipients.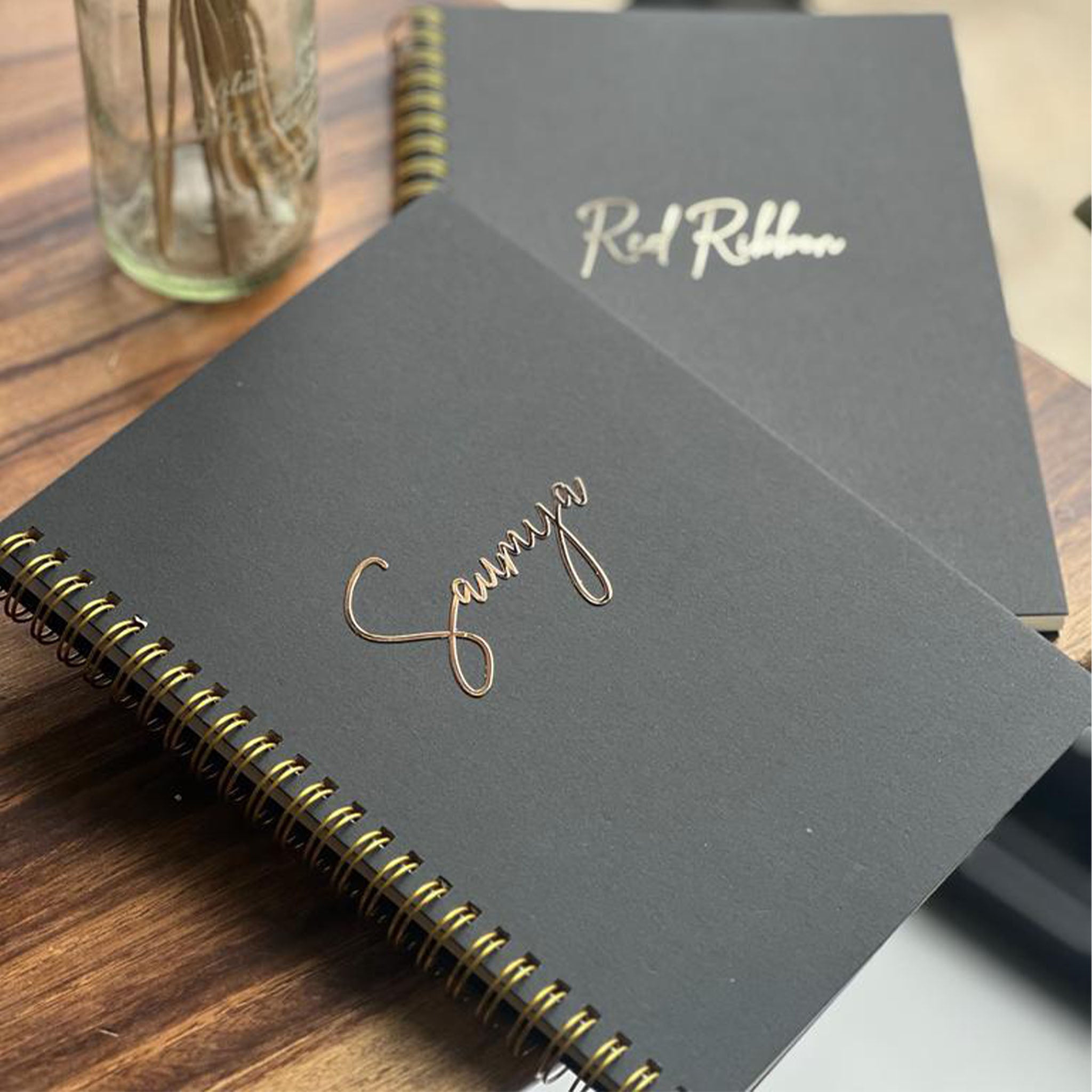 4. Personalized Thermos Flask: Sip Innovation On-The-Go
The Personalized Thermos Flask is a must-have for those on the move. It keeps drinks hot or cold for hours, making it ideal for outdoor adventures, work, or daily commutes. The personal touch and eco-friendly materials emphasize your commitment to convenience and sustainability.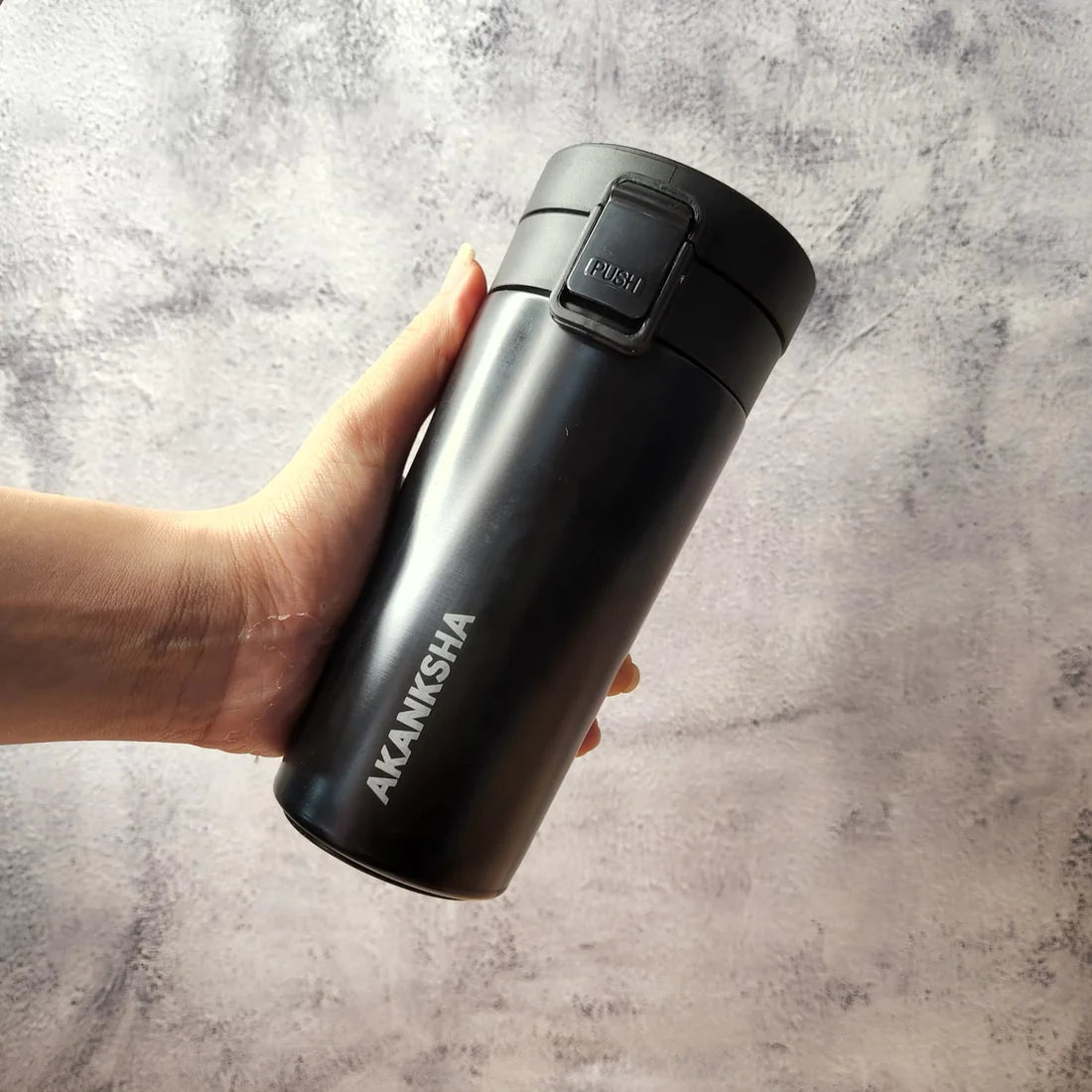 5. Clay Diffuser Set
Introducing our Clay Diffuser Set, a sustainable and nature-inspired solution to fill your space with delightful aromas. Crafted from Studio clay, these terracotta diffusers offer an earthy and eco-friendly way to create a soothing atmosphere. Simply add a few drops of the included 15 ml essential oil to the clay diffusers, hang them up, and let the natural fragrance envelop your surroundings. The scent's strength is customizable depending on your space size, giving you control over your sensory experience. Choose between a calming blend of cypress, fir needle, and eucalyptus or a refreshing combination of lime and rose.
6. Personalized Signature Glass Bottle: Hydration with Style and Substance
Stay hydrated in style with the Personalized Signature Glass Bottle. It features borosilicate glass, a spill-proof double-locking lid, and an anti-slip silicone sleeve for added protection. Just like your business relationships, it combines style with substance, ensuring your recipients have everything they need.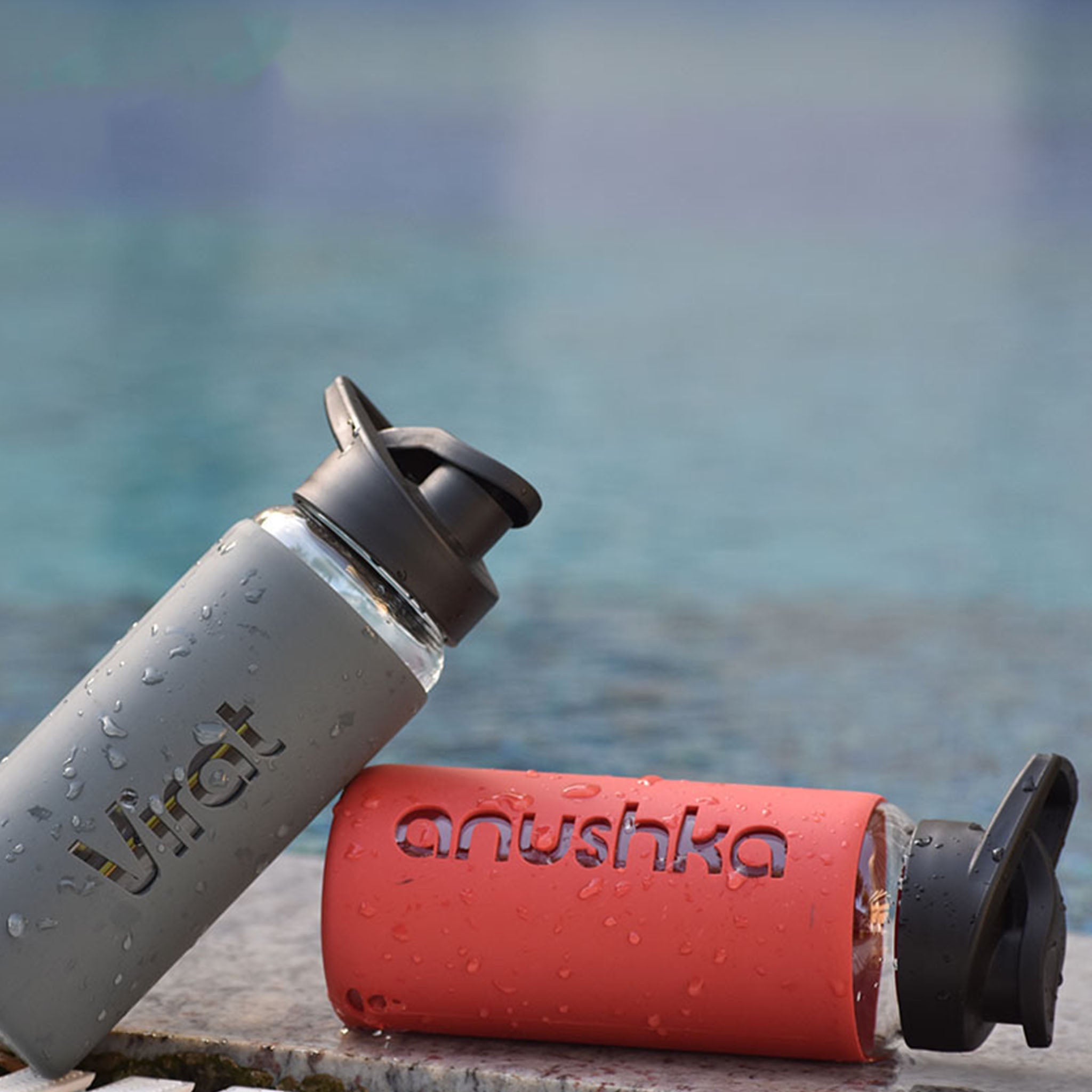 7. Blue Bijoux: Your Festive Journey Begins Here
Blue Bijoux, a treasure trove of delight, holds a remarkable array of festive wonders. First, savor the sun-kissed joy with Aam Papad Bites, encapsulating the essence of summer's embrace. Then, ignite the artistic spirit with Blue Pottery Diyas, a duo of culture and craftsmanship, illuminating your celebrations with intricate elegance. French Onion & Cream Makhana offers a sophisticated twist, merging flavors in a symphony of taste. Spiced Cashews take your palate on a bold adventure, an exploration of harmonious spices. Finally, indulge in tranquility with Ylang Ylang Incense Dhoop, an aromatic gateway to serenity.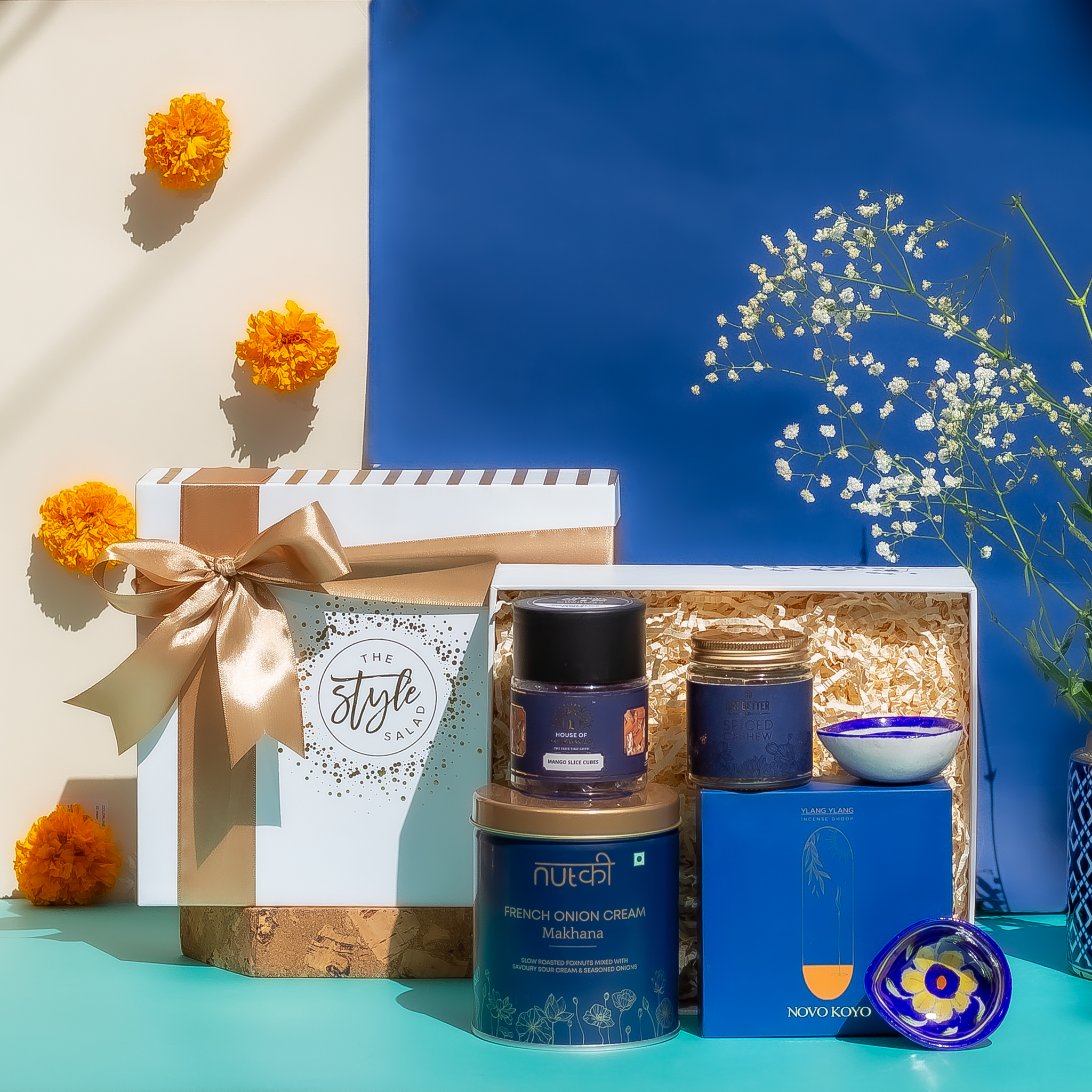 8. Saffron's Festive Splendor: A Glimpse into Luxury and Tradition
Saffron, the epitome of opulence, brings you a curated collection that transcends the ordinary. In the Bhag Cups, you'll discover not just cups but a duo of elegance, ideal for savoring fine teas or coffees. The Diwali Chocolate Bar isn't just chocolate; it's a celebration in every bite, as it captures the spirit of the festival. Turmeric Bloom Tea is not just tea; it's a blend of wellness and aroma, a golden elixir to rejuvenate your senses. Kashmiri Saffron Almonds aren't just nuts; they are a treasure trove of flavor, a royal indulgence. The Flower Pressed Terracotta Diya isn't just a lamp; it's a symbol of tradition and light, illuminating your celebrations.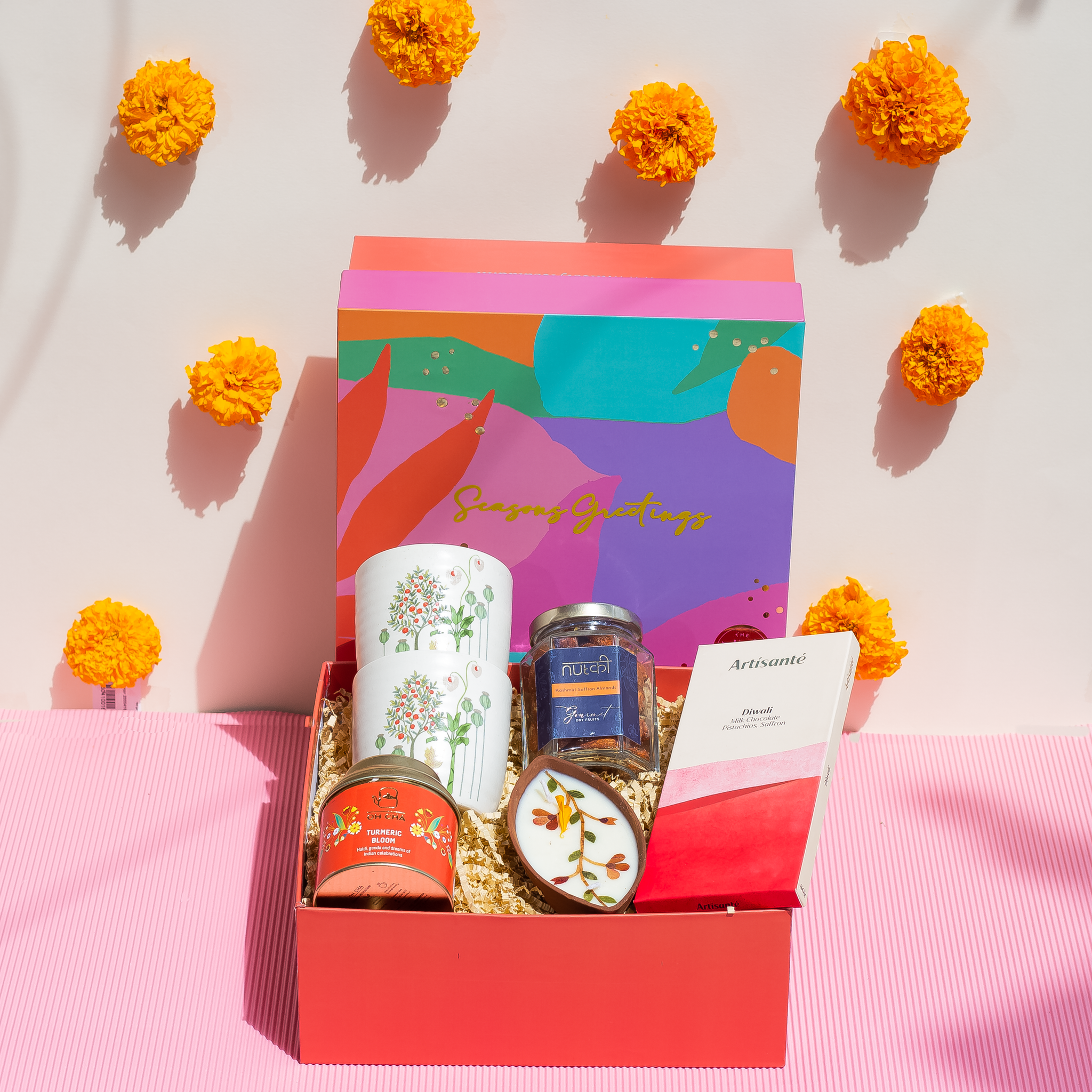 9. Sip in Style: Your Personalized Glass Coffee Mug Adventure
Elevate your drinking experience with our innovative Borosilicate Glass. It remains pristine at 400°C, ensuring no chemical leaching. Microwave, dishwasher, and freezer safe, it offers unrivaled convenience. A non-slip grip enhances your hold. With no plastic interference, this fully recyclable glass symbolizes elegance, health, and environmental responsibility.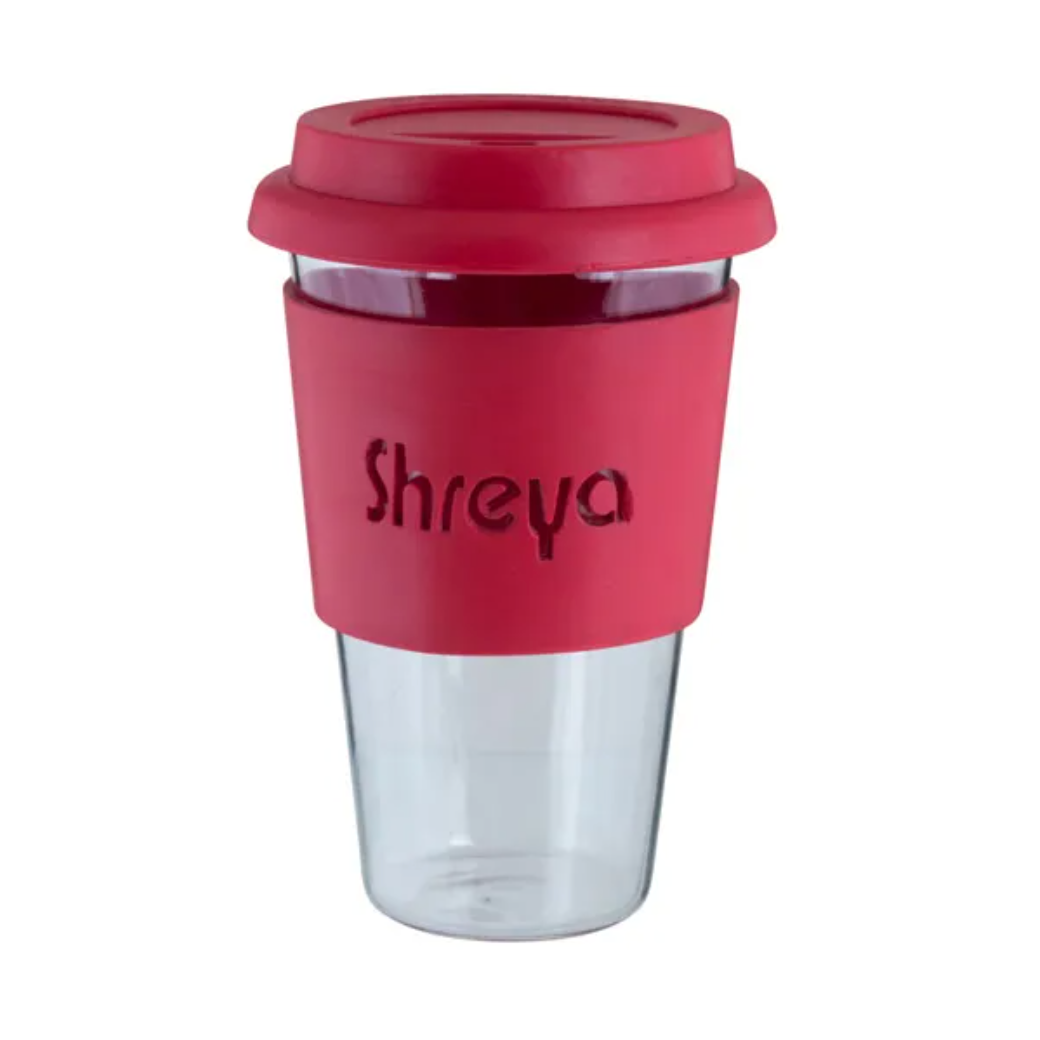 10. Personalized Polyblend Mug Duo: Unbreakable Elegance
Introducing our extraordinary Customised Mug Set, a perfect blend of elegance and durability. Crafted from German Polycarbonate, these mugs resemble glass or ceramic but are virtually unbreakable. They feature shatterproof and chip-resistant qualities, ensuring long-lasting use. With TUV Rheinland certification, they're food-safe. Plus, we accommodate left-handers upon request. Sold as a set of two, these mugs redefine style and functionality.