Diwali, the festival of lights, is a time of joy, unity, and gifting. It's a moment to express gratitude and strengthen bonds with those who matter most. When it comes to corporate Diwali gift hampers, The Style Salad offers a range that goes beyond expectations. Let's dive into the art of gifting and discover why these hampers are the perfect choice for this Diwali season.
Blue Bijoux: The Festival Delight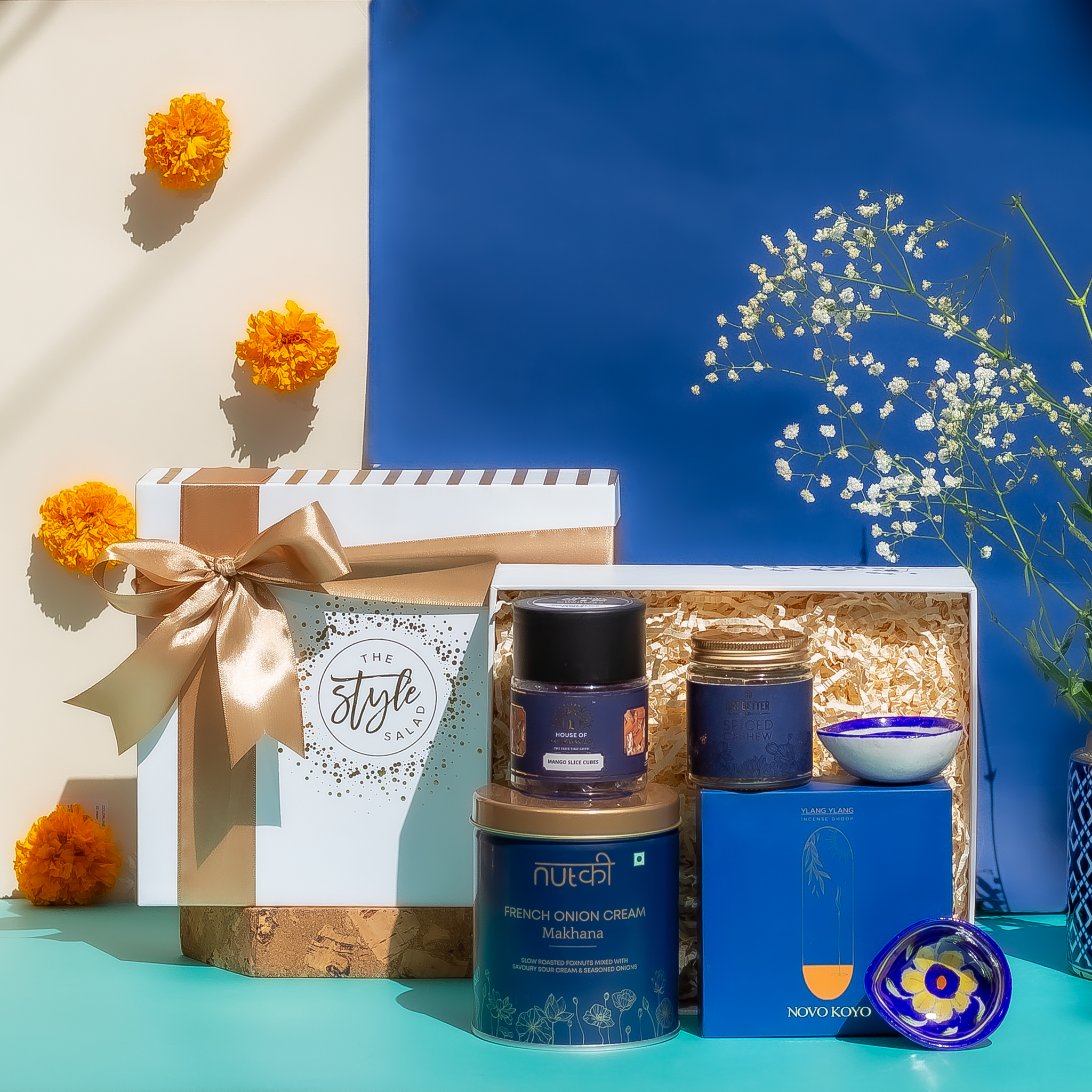 'Blue Bijoux,' a Diwali delight that combines tradition and elegance. This curated collection features Aam Papad Bites for a sweet start, two handcrafted Blue Pottery Diyas for a touch of artistry, and French Onion & Cream Makhana for gourmet indulgence. Add some spice with Spiced Cashews, and set the mood with the calming scent of Ylang Ylang Incense Dhoop. 'Blue Bijoux' is the perfect Diwali gift hampers, bringing together flavors, craftsmanship, and serenity in one exquisite package.
Bloom Diwali: Blossom in the Festive Spirit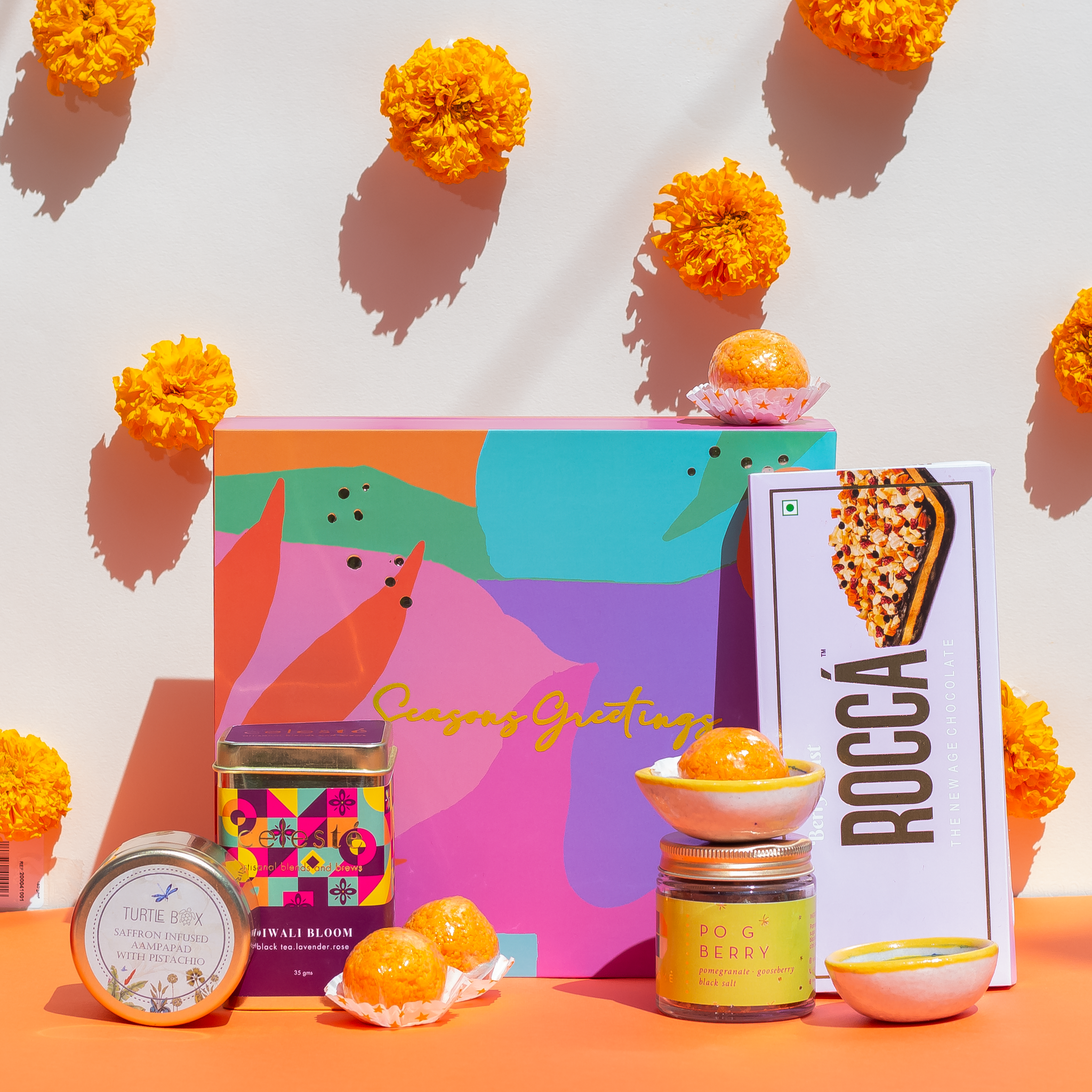 Diwali is a time of blooming spirits, and the Bloom Diwali hamper is here to celebrate just that. It features Diwali Bloom Tea for warm, flavorful sips, Laddoo Candles or a Box of Chocolate Sparklers for a traditional touch, PoG Berry Moo Meetha for delightful fruity treats, Berry Chocolate Rocca Brittles for sweet cravings, Saffron Infused Aam Papad with Pistachio for exotic flavors, and Tea-light Holder for a warm glow. This hamper adds a dash of tradition to your celebrations.
Diwali Pop 1 & 2: Cool and Collected Festivities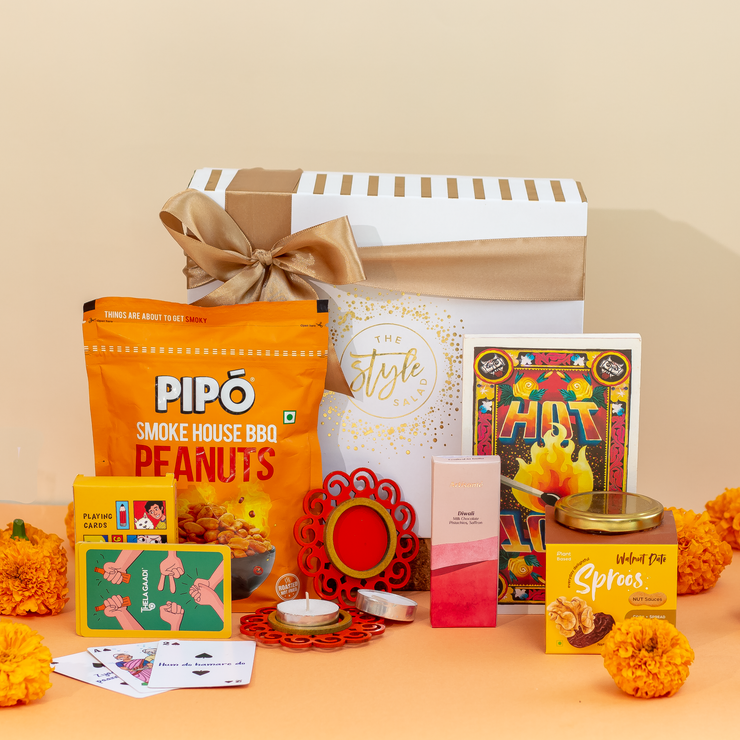 Diwali Pop 1 & 2 from The Style Salad is all about cool and collected festivities. It includes 90 playing cards for bonding over games, a mini Diwali Chocolate Bar for sweet indulgence, a cool match-box notebook for jotting down thoughts, mandala tea lights in soothing green for creating a calming atmosphere, La-Italia Pizza Style Peanuts for a unique snack, and Pistachio Rose Sauce for culinary adventures. This hamper is perfect for those who appreciate a touch of sophistication.
Golden Glow: Bask in the Radiance of Diwali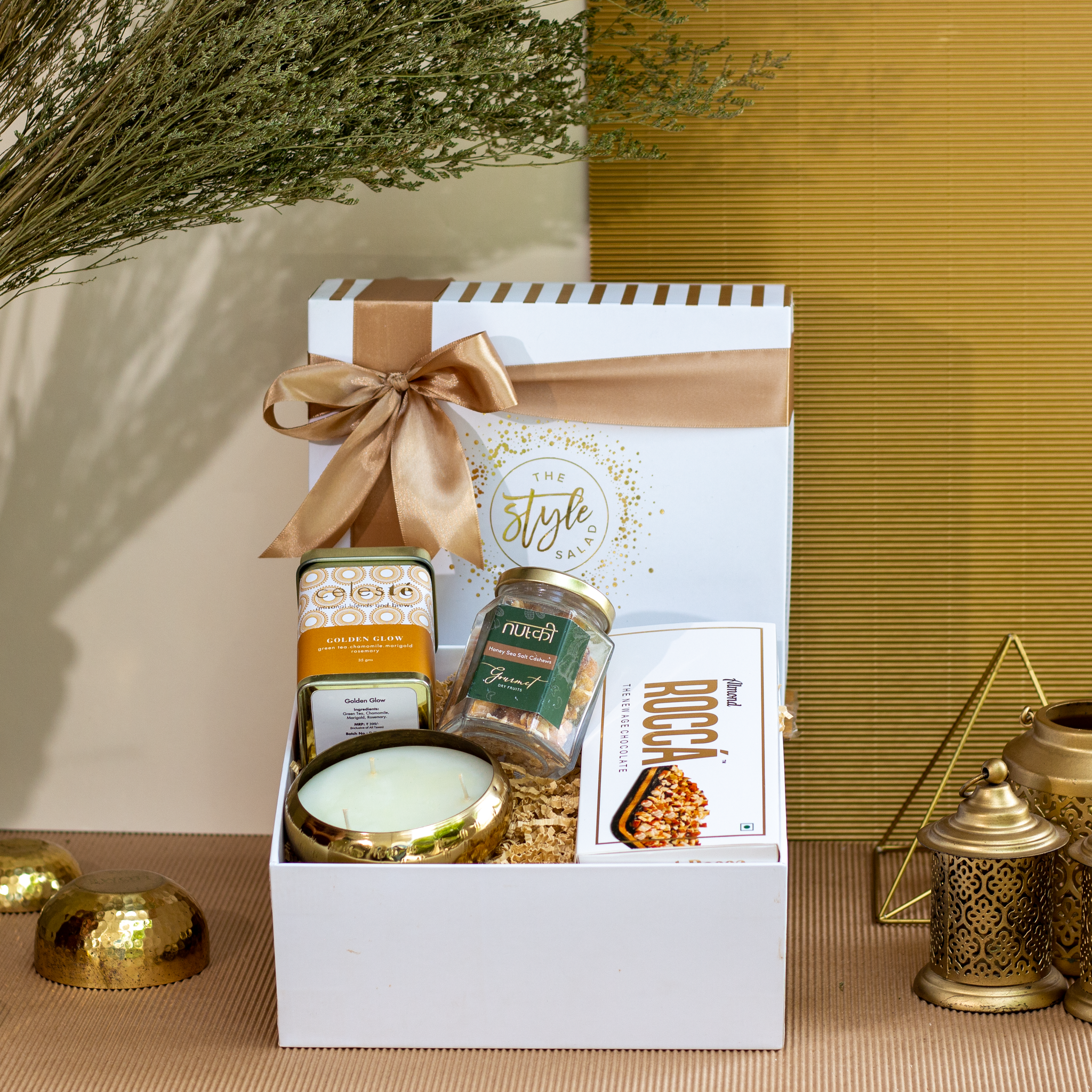 The Golden Glow hamper is a treasure trove of gifts that embodies the radiant spirit of Diwali. It features a Golden Glow Tea Tin with vibrant marigold hues and soothing chamomile essence, Honey Sea Salt Cashews for a delightful crunch, Almond Chocolate Brittles for a decadent treat, and Jasmine or Oudh Urli Candle for creating a serene ambiance. This hamper is ideal for those who want to bask in the glow of festivities.
Green Goodness: Celebrate Sustainably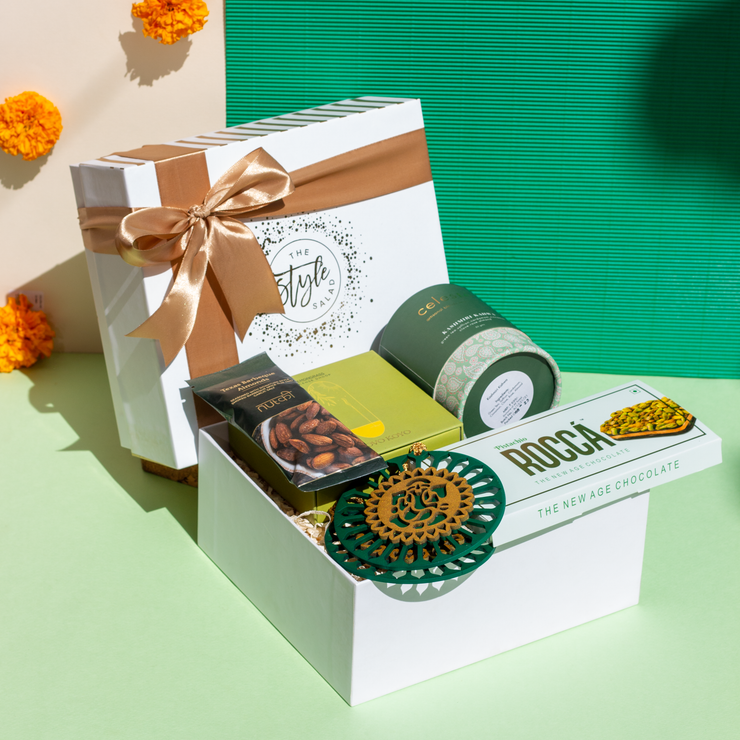 In a world that values sustainability, The Style Salad's Green Goodness hampers stand out. Box 1 includes Lotus Tea-light, Kashmiri Khawa Tea, Texas BBQ Almonds, Pistachio Rocca, Lemongrass Incense Dhoop, and Lotus Tea-light. 
Box 2 takes sustainability a step further with Ganapati Mandala Wall Decor in addition to the delightful treats. These hampers are perfect for eco-conscious individuals who wish to celebrate while caring for the environment.
Festive Blend: A Symphony of Flavors and Fragrances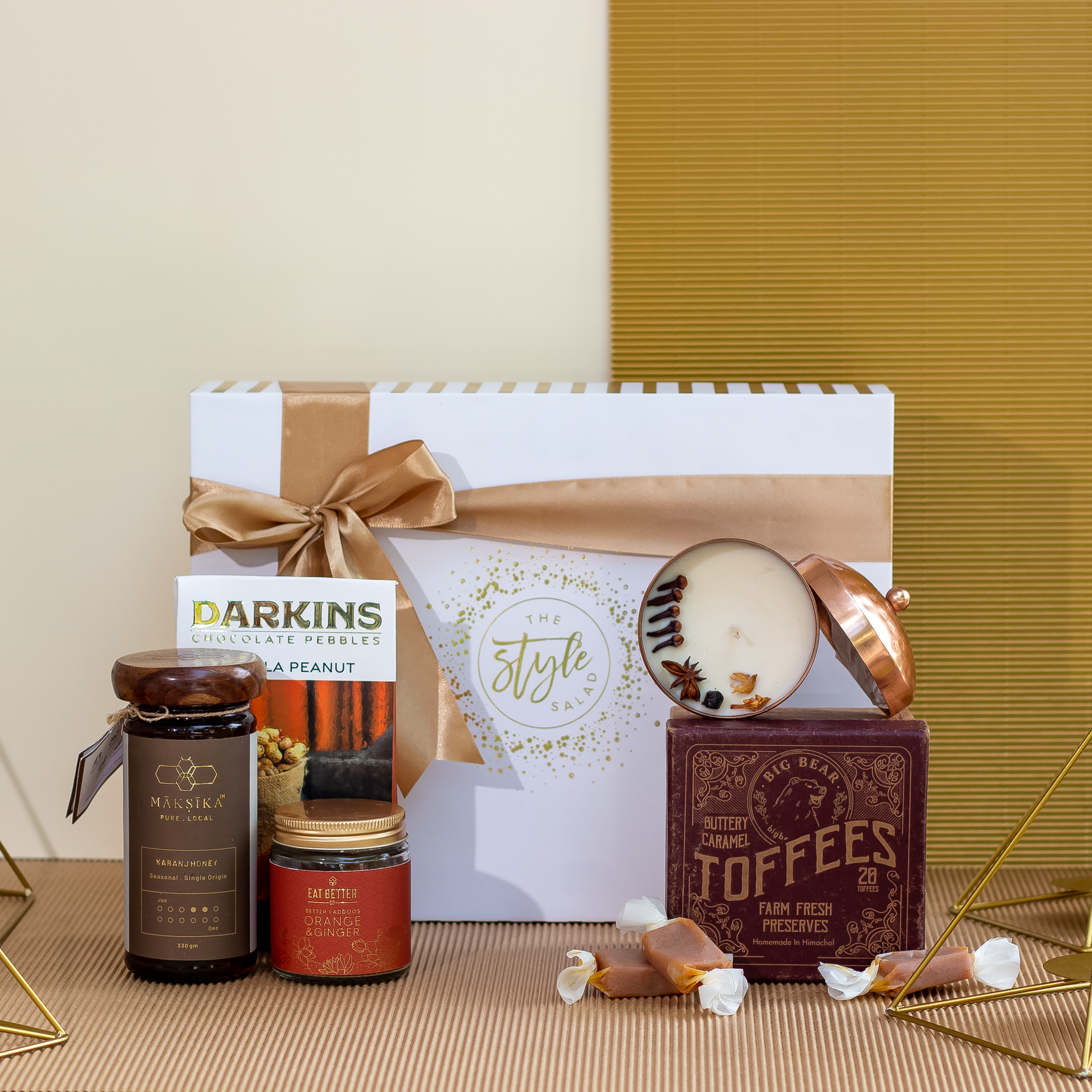 The Festive Blend hamper is a harmonious mix of Initiator Copper Jar Candle for creating a cozy atmosphere, Caramel Toffees for a sweet indulgence, Orange Ginger Laddoos for a burst of Indian flavors, Masala Peanut Flavored Chocolate Pebbles for a delightful crunch, and Karanj Honey with its light floral aroma, reminiscent of a garden stroll. This hamper is the perfect blend of tradition and innovation.
The Style Salad: Your Recipe for Gifting Perfection
When choosing the perfect gift for Diwali, The Style Salad's corporate Diwali gift hampers are an excellent choice. They not only reflect the festive spirit but also show your appreciation and thoughtfulness. These hampers are more than gifts; they are a symbol of unity, joy, and the celebration of traditions. This Diwali, make your gifts truly memorable with The Style Salad's exquisite hampers.